Operation Christmas Child 2019
Operation Christmas Child 2019

Find here information concerning our involvement this year with Operation Christmas Child, including dates and times when plfc will be open to receive shoeboxes and to process shoeboxes.
What is OCC?
Operation Christmas Child (OCC) is a project of Samaritan's Purse whose aim is to demonstrate the love of God to children and families in need across Africa, Eastern Europe and Central Asia. OCC itself provides presents to children, often orphaned, who would in all probability be given little or nothing else this Christmas.
This project relies on the goodwill of people across the UK, America, Canada and Australia, who provide a shoebox full of presents to be sent overseas to a needy child. We at plfc act both as a drop-off point for shoeboxes, and as a satellite processing centre for boxes provided by people in the CB6, CB7 and CB8 areas.
OCC at plfc 2018
In total over 1900 boxes were processed from postcode areas CB6, 7, & 8 and these were sent out to a country in the Middle East.
How you can be involved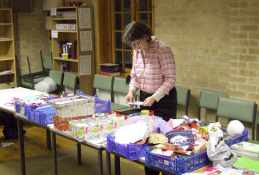 There are three ways that you can be involved if you live in this area. Firstly, by preparing a
shoebox filled with gifts
for a child overseas. If you live in Isleham we are hoping that our friends at the village Co-op will again hold leaflets during October and early November, otherwise if you contact plfc we will gladly supply you with a leaflet etc. The second way you can help is by coming along to one of our OCC work afternoons from 2 - 4pm (see below). And finally, provided you are 16 or over (we can accommodate younger helpers provided that they are accompanied by a responsible adult), you can get involved with processing the boxes. Each year many people give up an evening, or more, to help check box contents, tape boxes or fit the checked shoeboxes into packing boxes. Most people find this very rewarding work and come back year after year! Please read on for further details.
OCC Work Afternoons 2019
We are holding monthly afternoon crafts sessions in preparation for the OCC season. Join us to wrap boxes, knit and crochet toys and gloves, and a whole host of other activities, that are fun to do and will help towards meeting the need of other children later in the year. We hope to be holding these events on :
Fri 25th Jan from 1:00 to 3:00pm
Fri 22nd Feb from 1:00 to 3:00pm
Fri 22nd Mar from 1:00 to 3:00pm
Fri 31st May from 1:00 to 3:00pm
Fri 28th Jun from 1:00 to 3:00pm
Fri 26th Jul from 1:00 to 3:00pm
Fri 30th Aug from 1:00 to 3:00pm
Fri 20th Sep from 1:00 to 3:00pm
Dates and Times
plfc is an official Drop-Off point for shoeboxes, and is open to receive boxes from the 1st - 18th November. Since it is a church, there will be occasions when nobody is on site and the building will be locked, but it is generally occupied between 9.00AM and 5.00PM Mondays to Fridays (suggest you phone first to check. It will also be open to receive boxes between 7.00pm - 8.30pm 12th, 13th, 14th, and 15th November.
Dates and times on which we will be processing boxes will be available here from October onwards (please note that this list will be updated throughout the campaign):
Fri 18th Oct from 2-3 PM - Induction Training
Fri 18th Oct from 7.30-8.30 - Repeat Induction Training
A Satellite Processing Centre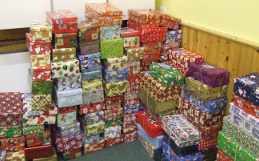 For many years plfc has operated as a Satellite processing centre for OCC. This means that all boxes provided from within the CB6, CB7, and CB8 postcode areas are brought to plfc for processing. On arrival the envelopes containing donations are removed and the enclosed monies banked with Samaritan's Purse. The boxes are then firstly sorted according to sex and age and then moved to the schoolroom at the rear of the church to await checking.
Volunteers come in from Isleham and the surrounding villages and towns to then process these boxes. Each box is opened and carefully checked to ensure that it doesn't contain any materials that are specifically banned (as detailed on the information leaflet), and if a box has very little content then additional items may be added. Please appreciate that we try, as far as we possibly can, to respect the wishes of the donor in forwarding the box as originally given. Once the box has been checked, it is independently re-checked and then security tape is put around the box identifying it as having been checked by an SPI accredited person.
The boxes are then moved to another area where they are packed by sex and age into large packing boxes, optimising the number that are contained within any box. Once a box is full, the details are recorded on the box and it is sealed, ready for moving to Cambridge to await shipping out to the receiving country.